•
Posted November 23, 2018
Welcome aboard – Hannah Mableson.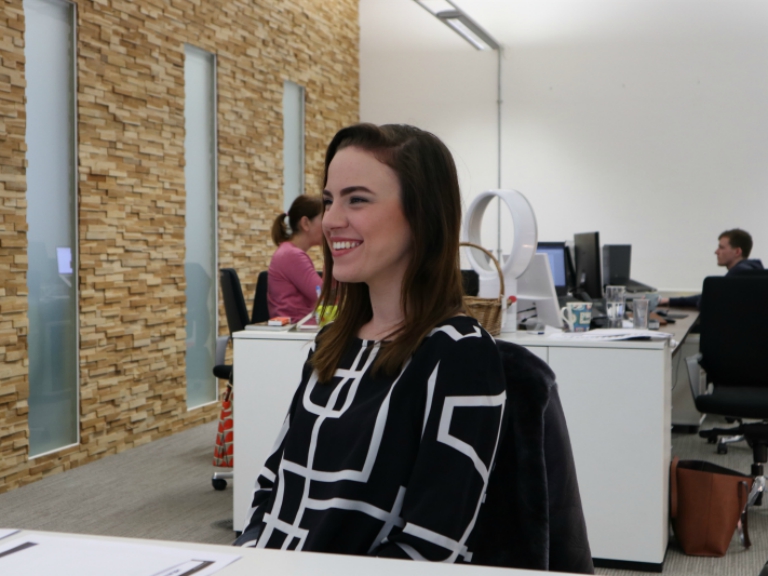 Web and UI designer Hannah Mableson joined The Bigger Boat back in October. She tells all about how she came to be part of our growing crew and discusses why, for her, it's always been about web design.
When asked what I wanted to be when I grew up, I confidently announced I was going to be an artist. Inspired by Beano comics, I made my own – and from the comic creations, I moved on to recreating album art of the music I grew up on, leading me to pursue graphic design. I mapped my education to lead me on a creative career path. After receiving a grant to go to university, I set off to London where I studied graphics. It was there I had the opportunity to work on live briefs for the likes of vintage books and Little White Lies magazine and I eventually exhibited my work at the highly respected D&AD New Blood showcase.
I graduated, headed back to my home town of Teesside and gained experience by working as an intern in various design agencies to kick-start my career in graphic design. I eventually got my break in the industry – I worked hard and quickly became a mid-weight designer leading a team of web developers. It was there that I realised my passion for web design. Having developed an interest in digital, I decided to take a break from the industry to enrol on a master's degree course in digital design. It was there I had free reign to structure a project in my area of interest – user interface design. With a rapidly growing market for health apps, I designed one that would prompt the user to take better care of their health with the aim to ultimately improve their emotional and physical wellbeing.
Having worked in most of the design agencies in Teesside, I decided it was time to pack up and head back to a city for bigger and better opportunities. This led me to a web and UI designer role at The Bigger Boat. After learning about the impressive portfolio of clients, seeing the awesome workspace and meeting the friendly team, I knew this was where I wanted to be. I feel I have joined The Bigger Boat at a really exciting time (even if it means my diet will suffer from the donuts and bacon sarnies).
Aside from my design obsession, I've always loved a challenge. I was a gymnast for 14 years for the British Gymnastics Association and a few years ago set myself the challenge to trek the Sahara Desert for a week to raise money for young people living with cancer. Being adventurous, travelling is what I spend my money on. A northern lass through and through, I enjoy a good brew and a tipple with friends (gin being my first choice).
­